❝

Kirk – Mrs. Kim, my name is Kirk
Mrs. Kim – I know who you are, Kirk, I've known you since you were two
Kirk – That's no guarantee that people remember me[1]

❞
Kirk Gleason is a principal character on Gilmore Girls. He is portrayed by Sean Gunn.
Character
Kirk is an eccentric character from Stars Hollow, mostly known for his string of jobs/career paths, which change from episode to episode, and the exasperation he produces in diner-owner, Luke Danes. He can be a sweet, seemingly innocent guy and most of his motives mean well, but he is also incredibly irrational and sometimes has an uncontrolled, larger-than-life physicality in the presence of other people. However, he did take a lot of lessons with Miss Patty's School of Ballet[2][3] and performed an interpretive dance number of life and death.[4]
Story
Kirk lives with his mother, who, although never actually seen on the show, is portrayed as overbearing, doing such things as not letting Kirk have a key, or a car. He raises money by doing a variety of odd jobs around Stars Hollow, which range from helping Taylor Doose at town meetings to running "Kirk's Diner", a replacement for Luke's when Luke's Diner was undergoing repairs. Kirk also adopts a cat, which he names Kirk. Cat Kirk loathes Human Kirk, and every time we see Kirk in the episode, he has acquired new injuries.[5]
He lives in the basement of his mother's home – which used to be a bomb shelter – and, with encouragement from Luke, attempts to move out to become more independent.[6][7] Kirk is found wandering Stars Hollow after leaving his mother's house and he took up residency in Michel's motor home, Luke's unfinished boat, and a few other places.[6] Kirk also stays with a Stars Hollow family, but decided to move out because "their kids stuck things in my nose!" (while he wasn't asleep).
For a short time Kirk is seen staying with Lorelai at the Crap Shack (along with Paris and Rory, both of whom decided to come to Stars Hollow for a break). He is portrayed as extremely childish in this episode, building a fort out of cereal boxes because he felt he was being ignored by Paris and Rory, and being scolded by Lorelai for leaving the television on while they were eating breakfast.[7] It is then that he attempts to buy the Twickham House out from under Luke's feet after Luke tells him he should move out to really start a life with Lulu. Eventually, the house is given to Luke, but he later backs out.
Relationships
Early on, Kirk asks Lorelai out on a date, which she declines, but they both agree to remain friends.[8] Later on, Lorelai is there for Kirk when he gets himself into peculiar situations, such as housing him as an overnight guest following a bender caused by Patty's Founder's Day punch.[9] Kirk frequents Lorelai's work places often, trying to sell products such as 'Hay There' at the Independence Inn[10] and customized mail boxes at Dragonfly Inn, including one shaped like the head of Condoleezza Rice.[11] Lorelai also helps dress Kirk for his first date with Lulu.[11]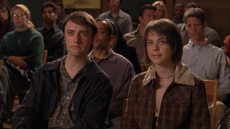 Lulu originally dated one of Kirk's many brothers, yet Kirk confesses to always have had a crush on her. She returns to Stars Hollow to visit Kirk, which Lorelai points out must be a date[11]. He does extensive preparation, including taping himself pretending to have dinner with Lulu at Luke's, and enlisting Luke to help him on the actual date, as Kirk doesn't feel like he knows what to do. It is also indicated that Kirk has been bullied enormously growing up, as he expects his date to leave if he goes to the bathroom. But Lulu really does like Kirk and they start dating. Lorelai remarks that Kirk is really lucky to have found Lulu, and Kirk's eccentricities do not seem to chase Lulu away, rather they form a good unit. They are together from around 2003 and until the show concludes, and it is not specified whether they marry. But at one point, Kirk does mention that he is thinking about proposing to Lulu. In A Year in the Life, we learn that Kirk and Lulu talked about having a baby, which is why the whole town pitches in to buy them Petal the pig.
For reasons unbeknownst to Luke himself, Kirk takes to relying upon and looking up to Luke for emotional advice and help, almost like an older brother or father. While Luke has a bunch of is-this-my-life moments every time Kirk enlists Luke to help him out, eventually, Luke takes it upon himself to try and do the best he can with the situation. Luke's suggestion that Kirk needs to move out of his mother's house, produces a naked Kirk sleeping on Luke's boat stored in Lorelai's garage, Lorelai commenting: 'Are you insane? Everyone knows you can't mention anything to Kirk!'[6] Likewise, Luke takes it upon himself to monitor Kirk's night terrors when the town stays at the Dragonfly Inn for its test-run and Kirk is worried how Lulu will perceive him.[2]
a film by kirk
Background
Kirk starts work on a short film in 1997, which he completes in the spring of 2002, so it can be screened at Movie Night in the Square. Kirk states to Lorelai that he is very proud of it and that in his soul, he is Asaad Kelada.[12]
Plot
Kirk and his girlfriend (who in many ways is not dissimilar to his later real girlfriend Lulu) are going to meet her parents. She seems distressed by it, while Kirk appears detached. The dad seems irate of temper with a wide stare and loud voice and lets them in the house. Kirk, his girlfriend, and the parents sit silently in chairs diagonally facing each other and stare. The camera cuts between all four people, a cat, a dog and a pet gerbil. After Kirk states to the dad that he loves their daughter and the dad asks what Kirk can offer, Kirk starts to break-dance (ish) to White Lines, eventually taking his shirt of to which the dad responds 'let's eat!'. Kirk is left standing in the center of the living room, staring after the others.
Cast
The dad is portrayed by the local pizza guy who later tries to make the world's largest pizza for Rory.[13] The girlfriend and mother are not seen again, although the girlfriend is one of the many singer-songwriters playing in the Season 6 finale. It is unclear whether it's the same person, though it is likely.
Style
Obviously intended as a wannabe-artsy student film parody, emphasized by the abrupt editing, angles and bad dialogue, as well as the random cuts to pet reaction shots. The intonation of speech is monotone, the delivery staccato. None of the characters have names.
Photos
Quotes
‶

One day it occurred to me: cows never wrinkle

″

—Kirk to Lorelai
Trivia
The character of Kirk was inspired by Amy Sherman-Palladino's father, comedian Don Sherman.[14]
Sean Gunn's favourite episode is Jews and Chinese Food.[15]
Gunn referred to the character of Kirk as 'wearing a metaphorical hot dog suit' throughout the series run.[15]
Kirk once had a band called 'The Kirk Gleason Five'.[16]
He is the youngest in a family of 12.[17]
Once, his mom made each of his siblings a basket for the bid a basket festival, but excluded him.[17]
Louie Danes, Luke's uncle, once terrorized Kirk on Halloween by taking his Reese's cup. Kirk never went trick-or-treating again. Uncle Louie also kicked Kirk's dog. She was never the same again.[18]
He is allergic to anything pine-scented.
His bedroom is a converted nuclear bunker that has great acoustics and is perfect for handball.
He works at most businesses in town at one time or another.

At one point he had worked 43 jobs.
BEHIND THE SCENES
Kirk is portrayed by actor Sean Gunn, who has appeared as other characters on the show.

Gunn first appears as Mick, a DSL installer sent to Lorelai's home.[19]
His second appearance is as a man who delivers swans to the Independence Inn.[20]
Kirk Gleason makes his first appearance introducing himself as the new assistant manager of Doose's Market. He reprimands Miss Patty for eating fruit without paying, and she calls him "Kirk the Jerk".[21] However, in later episodes it is established that he grew up in Stars Hollow, and Patty has known him since he was a child.
Photos
Media
All 62 Of Kirk's Odd Jobs (DECIDER • MARCH 2016)
Notes and references