Gypsy is a recurring character on WB drama Gilmore Girls. She is portrayed by Rose Abdoo.
Character
Gypsy is a no-filter, sarcastic and tough woman. She is the Stars Hollow auto mechanic, first seen breaking off the windshield wipers of Rory's car (which Dean built for her) to avoid checking it for the umpteenth time[1]. Also, Gypsy helps Jess with his car on numerous occasions, which he bought from her shop.
A drunk Emily takes a particular liking to Gypsy at the former's bachelorette party[2]. While presenting her gruff, sarcastic exterior to the town at most times, Gypsy also helps out with town matters, such as the Stars Hollow History Museum and gathering the lost easter eggs, showing that she cares for the town.
Series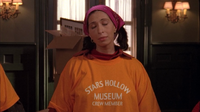 She can come across as something of an instigator, pushing her agenda such as when Taylor distributes the blue and pink ribbons so the town can display their sympathies following Luke and Lorelai's break-up, and Gypsy chooses pink because she makes money off of Lorelai, whereas Luke fixes his own truck[3], or when she and Jackson make fun of Kirk during the Easter Egg hunt[4].
She's also very direct in her approach to people, and very real about the follies of living in a small town, her wit akin to that of Michel Gerard. When she and Andrew experience a minor collision, it's brought up at the town meeting and there haphazardly resolved, as Stars Hollow apparently has no judicial branch[5].
Trivia
Gypsy's full name is never revealed on the series.
Notes and references
Community content is available under
CC-BY-SA
unless otherwise noted.