Gilmore Girls Lore: Dave Rygalski
Play Sound
Dave Rygalski is a recurring character on Season 3 of Gilmore Girls. He is portrayed by Adam Brody.
Character
Dave is a smart, sweet, music lover, equal to Lane Kim, who plays guitar. Not a lot is known about his family, but he lives in Stars Hollow and plays in a band with his friends Brian and Zack when first introduced. He's very aware of his friends' natures and masterfully administrates the band, while making sure that they make it work with Lane. He's witty, quick-minded and spars well with Lane, which sparks their romance.
Story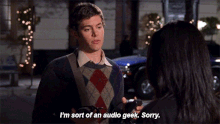 Dave appears as he's seeking a drummer for the current trio with his friends, another guitarist and a bass player, and has seen Lane's drummer-seeking-band flyer. Lane is instantly charmed by Dave's knowledge of and passion for all aspects of music, not to mention his awkward charm and witty demeanor. Lane develops a crush on Dave, which Rory teases her about and it turns out Dave is actually interested in her too. They begin dating and he pretends to be a Christian guitarist to gain her mother's approval, he does not, however, gain it until late in the season as he is not Korean.
He is later replaced by Gil in the band, after he moves to California for college. Dave is mentioned a few more times as a long distance boyfriend but the relationship between Lane and Dave ends after a fight over the marriage jug - the last mention of him. He does not appear again on the show.
Quotes
Trivia
Dave is named after Helen Pai's real-life husband. Helen told Amy Sherman-Palladino stories about their dating which inspired scenes for the show.
Mrs. Kim is the only one who calls him David.
Dave is also one of the only people in Stars Hollow that Jess likes, aside from Rory.
Adam Brody left the show to star in The O.C. Grrr! Arg!
Sherman-Palladino asked the WB to put actors they wanted to keep on contract, like Adam Brody and Chad Michael Murray, but alas.[2]
The guitar Dave plays at the Korean wedding (S3E12) appears to be a 2001 Ibanez AEF28.
Media
Forget Jess: Dave Rygalski is the best 'Gilmore Girls' boyfriend (MASHABLE • NOVEMBER 2016)
8 Reasons Dave Rygalski Is the Best Gilmore Girls Guy (TV GUIDE • JULY 2016)
Photos
Episodes
Notes and references