Line 1:
Line 1:
−

'''Asher Flemming''' (portrayed by [[Michael York]]), is a [[Yale]] professor and author, who develops a romantic relationship with [[Paris Geller]]. The two met through [[Richard Gilmore]], because Asher and Richard went to school together. Despite the massive age difference, Rory and Asher had a serious relationship throughout Paris and [[Rory]]'s freshman year of Yale. He dies of a heart attack two weeks before Rory and Paris' sophomore year of Yale begins. ([[5.03]]) He was teaching a Shakespeare class in Oxford when he had the heart attack.

+

'''Asher Flemming''' (portrayed by [[Michael York]]), is a [[Yale]] professor and author, who develops a romantic relationship with [[Paris Geller]]. The two met through [[Richard Gilmore]], because Asher and Richard went to school together. Despite the massive age difference, Rory and Asher had a serious relationship throughout Paris and [[Rory]]'s freshman year of Yale. He dies of a heart attack two weeks before Rory and Paris' sophomore year of Yale begins. ([[5.03]]) He was teaching a Shakespeare class in Oxford when he had the heart attack.

 

[[Category:Yale|Flemming, Asher]]

 

[[Category:Yale|Flemming, Asher]]

 

[[Category:Characters|Flemming, Asher]]

 

[[Category:Characters|Flemming, Asher]]
---
Revision as of 00:31, 16 July 2012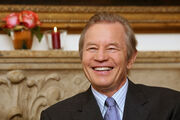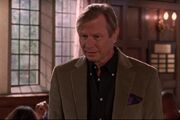 Asher Flemming (portrayed by Michael York), is a Yale professor and author, who develops a romantic relationship with Paris Geller. The two met through Richard Gilmore, because Asher and Richard went to school together. Despite the massive age difference, Rory and Asher had a serious relationship throughout Paris and Rory's freshman year of Yale. He dies of a heart attack two weeks before Rory and Paris' sophomore year of Yale begins. (5.03) He was teaching a Shakespeare class in Oxford when he had the heart attack.
Community content is available under
CC-BY-SA
unless otherwise noted.